| | |
| --- | --- |
| 13. | And they were bringing children to Him so that He might touch them; and the disciples rebuked them. |
| | |
| --- | --- |
| 14. | But when Jesus saw this, He was indignant and said to them, "Permit the children to come to Me; do not hinder them; for the kingdom of God belongs to such as these. |
| | |
| --- | --- |
| 15. | "Truly I say to you, whoever does not receive the kingdom of God like a child shall not enter it [at all.]" |
| | |
| --- | --- |
| 16. | And He took them in His arms and [began] blessing them, laying His hands upon them. |
After Confederate General Robert E. Lee retired from the military, he was appointed president of the Washington Academy in Lexington, because of a gift from George Washington. The name was changed to Washington & Lee University in commemoration of General Robert E. Lee in 1871.
When Lee was president of the University, a new student came to the office and requested a copy of the school's rules and regulations. The president said to the student, "Son, we do not have any rules and regulations in print." The young man said, "You mean this school has no rules?" Lee replied, "Yes, we have only one." He said, "What is it? Lee replied, "Our only rule is kindness."
We are living in a society where kindness becomes an increasingly rare commodity.

Not long ago, the front page cover story of U. S. A. Today began with this observation.
A surly driver will cuts into your lane. Your teenager brings home a CD that contains a sensational and hostile song. Political candidates in TV shows are suddenly turned into convicted murderers. A radio talk-show jockey insults the President while he is sitting right there for a baseball game. The world is becoming increasingly rude.
We have become a society in which the soft kindness of human beings has become hardened. An overwhelming number of Americans, 89% in a U.S. News & World Report poll, and three out of four Americans say "the United States has become increasingly unfriendly in the last decade."
You can search the kindness by accessing the internet. I have found, among many things, that there is now "a not-for-profit organization" called "The Kindness Society." It says, "We are striving to spread kindness by following a simple rule: Do not think, speak, or act unkindly toward others."
Well, everybody is living day by day with regard to kindness.
Mark Twain
said.
"Kindness is a language which the deaf can hear and the blind can read."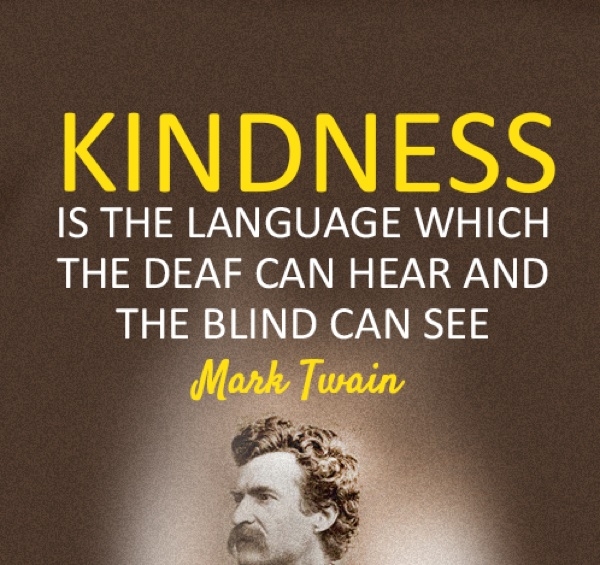 What is kindness? The word itself literally means "good," "helpful," "suitable". It literally means "to be gracious to others." Kindness is that you treat others as God treats you, as the Bible says in Ephesians 4:32. "And be kind to one another, tenderhearted, forgiving one another, just as God in Christ also forgave you."
Jesus not only shows us kindness, but also teaches us important lessons about the kindness God expects of us. In this case, we learn what kindness we need to practice.
1. We can treat others kindly.
I always read and study leadership. I want to be the best possible leader, and I want my kindness to motivate others to do the hard work well.
The best example of it is Jesus.
"Then they brought young children to Him, that He might touch them; but the disciples rebuked those who brought them." (Mark 10:13)
Everyone imagined that the Lord, who walked on water, healed the sick, raised the dead, and fed the multitudes, had no time to appease the baby and the children. But Jesus acted differently than people imagined.
"But when Jesus saw it, He was greatly displeased and said to them, 'Let the little children come to Me, and do not forbid them; for of such is the kingdom of God.'" (v.14)
You will never find, Jesus in his life, where He ever turned anybody away. He always had time for them, whether it was for friend or foe and kindly spoke to them and acted kindly.
The Lord Jesus has come to an unkind world. It was literally a dog-eat-dog, every-man-for-himself world. There were no organizations of mercy, mental institutions, hospitals and orphanages. But when Jesus came, he poured "milk of human kindness" into every bowl of human suffering.
Remember that Jesus Christ was God in the flesh and was kind. Psalm 117:1-2 says, "Praise the Lord, all you Gentiles! Laud Him, all you peoples! for His merciful kindness is great toward us."
Undoubtedly, one of the hardest parts of the Bible is that it commands us to love our enemies. Look at Luke 6:35, "But love your enemies, do good, and lend, hoping for nothing in return; and your reward will be great, and you will be sons of the Highest."
God is kind to sinners. God is also kind to the Saints. Think about this.
It is God's kindness that saved us. God's kindness sent His Son to die for my sins.
"But when the kindness and the love of God our Savior toward man appeared, not by works of righteousness which we have done, but according to His mercy He saved us." (Titus 3:4-5)
God's kindness leads me away from sin to salvation. God's kindness reserves a home in heaven for me.
The children who came to Jesus in Mark 10 seemed the littlest and the least. But Jesus treated each one like the king of the universe. Now when Luke talks about this incident, he says he has brought little babies, newborns, as well as little children.
I think that is so important because we have to handle with people's emotions in a way we handle little babies—with kindness, gentleness, and tenderness.
You know one of the great lessons of leadership. That tenderness can motivate to do things that toughness never can.
I would urge you to do it quickly when you have the opportunity to be kind to others. Ralph Waldo Emerson said, "You cannot do a kindness too soon, for you never know how soon it will be too late."
2. We share kindness in speaking to others.
You have a friendly kit that you carry around everywhere you go. It is called the tongue. I hope you never underestimate the power of just a kind word. An old Japanese proverb says, "One kind word can warm three winter months."


Now look carefully at what the Lord Jesus has done with these little children. Jesus did not just take them up. Jesus took them up in His arms and laid His hands on them. And he gave them a quick kiss, blessings and sent them on their way.
It is not a coincidence that Jesus "took them up in His arms and laid His hands on them." When those babies and those children felt the touch of the Lord, even their mother's love could not be like the kindness that flowed through His touch.
3. We can communicate kindness in relationships with others.
We all know the song: "Jesus loves the little children." What you seeing in this verse is love to act, which is exactly what kindness is. I Corinthians 13:1 said: "Love is kind."
Sometimes love is delivered in kind words. Sometimes love is read as a friendly note. Sometimes love feels like a kind touch.
You can confront wrong doing. But you can bring correction in a situation. You can tell the truth without being unkind. We are to share kindness with our words.
Someone once wrote this. "God is looking for people who are willing to participate in acts of love and kindness to those outside of their present circle. He is looking for people who believe that a humble demonstration of love plants a seed of eternity in the hearts of others that will blossom into faith in Christ."
In Matthew 8: 3, there is one of the most amazing statements in in all of the Bible that if you just read it on your own, you really wouldn't pay that much attention to it. A leper came to Jesus, and bowed down to Him, saying, "Lord, if You are willing, You can make me clean."
The most horrible disease in the Bible is leprosy. In fact, leprosy is a picture of sin. Leprosy was the AIDS of the Bible world. In verse 3 we read this amazing statement.
"Jesus stretched out His hand and touched him, saying, 'I am willing; be cleansed.' And immediately his leprosy was cleansed." (Matthew)
"Why is there such a wonderful statement? Jesus has healed a lot of people." It is not an amazing healing. The surprise is that Jesus touched him. It is the first time in the entire Bible to hear the story that anyone touched a leper. It was a friendly touch without question.
Dr. Paul Brand was a leprosy expert. Leprosy is a terrible disease except in the early stages. A leprosy patient does not feel physical pain. In fact, that's the problem. Because the leprosy bacilli secretly kills the patient's nerve cells. The patient does not feel pain at all in the case of leprosy, but his body is damaged without him knowing.
A leprosy patient can walk on the sharp metal screws all day long. He can drive a nail through his hands. He can even drive a nail into his eyeball and never actually feel any pain. But the pain that the leper felt in the Bible was not particularly physical, but personal and social. They have been rejected by the community. They were all expelled from the village.
Dr. Brand told of a bright young man being treated in India. In the course of the examination, Dr. Brand laid his hand on this young man's shoulder and told him through a translator of the treatment he was going to give him to cure his leprosy. The next moment the man burst into tears. Dr. Brand asked the interpreter, "Have I said something wrong?"
The interpreter asked the young man why he was crying. The translator turned to Dr. Brand and said, "Dr. Brand, the reason he is crying is because you put your hand on his shoulder. In all the years he has had leprosy, you are the first person who has ever reached out and touched him."
There is a world out there that is covered with the leprosy of sin. God wants to use us to reach out in the spirit of kindness and touch those people and love those people and bring those people to God. The way we can reach out to them and touch them is to "kill them with kindness".