"18. Now all [these] things are from God, who reconciled us to Himself through Christ, and gave us the ministry of reconciliation, 19. namely, that God was in Christ reconciling the world to Himself, not counting their trespasses against them, and He has committed to us the word of reconciliation. 20. Therefore, we are ambassadors for Christ, as though God were entreating through us; we beg you on behalf of Christ, be reconciled to God."
Cast Away is an American epic survival drama film directed by Robert Zemeckis and starring Tom Hanks. The film depicts a FedEx employee who survived on a desert island for four years on the island after an airplane crash in the South Pacific, using cargo residues from the plane.
He has many years apart from the outside world. He spent a whole day eating coconuts, crabs and fish on an island that is not human, and he transforms himself into a primitive man a few years later.
Like this man, everyone on earth was born a "castaway". We all landed on an island called sin. Because of our sins, we also have been separated from God.
Isaiah. 59: 2 says: "But your iniquities have separated you from your God; your sins have hidden his face from you, so that he will not hear."
But our problem is this: We need more than rescue. We need reconciliation to have a relationship with God. So truly that is what missions and evangelism are all about - reconciliation.
Two of the greatest poets ever lived are Robert Browning and his wife, Elizabeth Barrett Browning. When Elizabeth was engaged to Robert, her father strongly opposed her marriage and drove her away from home. Almost every week Elizabeth wrote a letter of love to her father asking for reconciliation. But she never received a reply.
Elizabeth sent a letter to her father once a week for ten years. And one day she found a big box parcel arrived. She opened it and was not disappointed and embarrassed. Her father collected all her letters and returned them to her without ever opening her letters.
The Bible is God's letter of reconciliation to us. In one of the great missionary passages throughout the Bible we will see how beautiful reconciliation is.
I. God begins reconciliation because of our sins.
"God reconciled us to himself through Christ and gave us the ministry of reconciliation." (2 Corinthians 5: 18)
This is very important because it tells us that God did not try to reconcile with us. Now why does it say it that way?
This world has had a perfect harmonious beginning. It was a perfect world. God placed Adam and Eve in perfect circumstances. They had a perfect relationship. But sin came in, and next we see Adam hiding from God. Adam did not seek God, only God was looking for Adam.
From then on until now all have been born estranged from God. So everyone is separated from God. Every person has been born a "castaway." A battle lines were drawn in the Garden of Eden, and thereafter a war broke out between God and man. That is why man's greatest need is to be reconciled to God.
Today we hear a lot of words that "felt need". But did you know there is a fundamental difference between We hear a lot today about "felt needs." But did you know that there is a real difference between felt needs and real needs? Felt needs are the symptoms; real needs are the root problems.
Listen carefully. Everyone on this planet has three basic needs. If these demands are not met, nothing else really matters. Above all, everyone needs to have a personal relationship with God. We need reconciliation because we are separated from God.
"But there is a barrier to reconciliation and that is sin. God was reconciling the world to himself in Christ, not counting men's sins against them. And he has committed to us the message of reconciliation." (19)
This is the root problem that Christianity deals with, not man's ignorance, but man without Christ. Life is not meaningless, though life without Christ is certainly meaningless. The sins of mankind who set the barriers between man and God are guilty. Therefore, everyone needs his sin to be forgiven and cancelled. We need justification.
But the good news is when our sin problem is removed and our relationship with God restored, we then gain eternal life. It is regeneration. How does all of this come about?
V.18 says, "All this comes from God."
As soon as we awake, we can realize that we are stranded on the island of sin. But at that moment you realize that only God can get you off of it.
So it is important to realize that religion is not necessary. Religion is a human effort to reconcile man and God. But the only problem is that man must reconcile with God. It is only God can do. That is why missions and evangelism are all about telling others not what they can do for God, but telling others what God has already done for them.
2. God facilitates reconciliation through His Son.
V.18 tells us that God "has reconciled us to Himself through Jesus Christ."
V.19 says, "God was in Christ reconciling the world to Himself."
V.20 says to us, "Therefore we are ambassadors for Christ."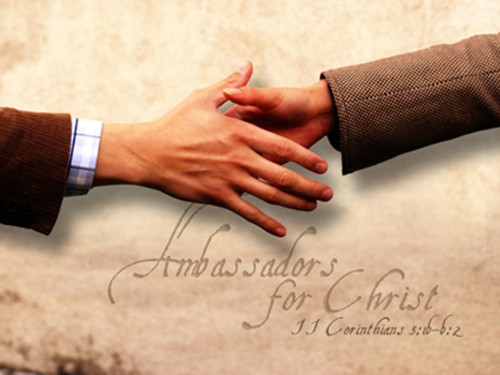 Through Christ, in Christ, for Christ - all these things are returned to Christ. How does this happen?
"God made him who had no sin to be sin for us, so that in him we might become the righteousness of God." (21)
As you know, reconciliation is what God brought about at the cross of Calvary. The cross is the bridge of reconciliation. These cliffs are separated by a large river. This river is filled with crocodiles, piranha, and poisonous snakes. And the river is too broad, the current is too swift, the water is too deep, the stream is too dangerous to swim.
Now suppose you are on one cliff and the person you love most in the world is on the other cliff, and you want to get together with that person. But the problem is that there is no human way to cross the river. The only solution is the bridge.
Now I draw two cliffs again. There is a sinful man on a cliff. On another cliff there is a holy God. There is a big obstacle between man and God. It is called the river of sin.
Jesus Christ died for our sins and gave His righteousness to us as sinners. So when we receive Him as Lord and Savior, the cross becomes a bridge that crosses the cliff of sin so we can have a relationship with God.
I like to read biographies. I realized that all of the biographies basically follow the same pattern. It will have a short section on birth; There will be a slightly longer section about the hero's adolescence; There will be a long section on adult life of the topic. A very short section on the death of the subject.
In the biography of Jesus there are four things: Matthew, Mark, Luke, and John. However, these biographies are very unique. Two of the four biographies did not mention the birth of Jesus. Only one of the biography is barely refers to his youth. Four volumes of biography talk a lot about his adult life, but the following is amazing.
One fifth of the Gospel of Matthew was devoted to the death of Jesus. One-third of the gospel of Mark was devoted to Jesus' death. Two-fifths of the Gospel of Luke was devoted to the death of Jesus. fully one-half of the gospel of John relates someway and somehow to the death of Jesus Christ.
Now, why are all four Gospels devoted and emphasized to the death of Jesus Christ? It is because we can make reconciliation only through His death. By His death we become justifications. It is only through His death that we have regeneration.
V.21 thoroughly tells what happened on the Calvary cross. At the moment of Jesus' death, a man who does not know sin has sinned against us. In other words, He took our place. He died on our behalf, so that we could be justified in God. Now I will add one other great word. It is a reconciliation. When he died for our sins, he was able to reach a reconciliation.
I heard about the great boat that ransacked the ocean. There was a little boy and his beloved dog on board. Well, the dog was careless and fell overboard. The little boy became frantic and ran to the captain of the ship, "Sir, my little dog has fallen overboard. Will you stop the ship so that I can rescue him?" The captain said angrily, "Son, this boat does not stop for the dog."
The little boy said. "Well, would you stop the boat to save a boy?" The captain said, "Well, of course we would." Immediately the little boy jumped overboard, swam back to the dog, and of course the captain stopped the boat and rescued them both.
Jesus jumped into the ocean of sin for us, just as the little boy identified the dog with his life, and so he jumped into the ocean to save the drowning dog. And God has rescued us. That is why we are able to reconcile with God.
3. God reconciles with his saints.
Three times in this verse Paul talks about the fact that we are responsible for reconciling others to God.
In verse 18 we know that God "has given us the ministry of reconciliation."
In v.19 Paul says that God "has committed to us the word of reconciliation."
In v.20 we are told, "we are ambassadors for Christ, as though God were pleading through us."
Now you have come to realize exactly what God has done.
1) We have a ministry of reconciliation.
In verse 18 we know that God "has given us the ministry of reconciliation."
Now reconciliation is where you bring two parties together who have been estranged, and restore the relationship.
God has given us the privilege of being willing to take the hand of the sinner who is willing, and the hand of the Savior who is able, so that the Savior can turn that sinner into a saint. He can turn that criminal into a king. He can turn that slave into a sovereign.
We have all been given the fulltime ministry of reconciliation. Every one of us is to be a minister of reconciliation. Every one of us has been given the responsibility of taking the hand of a person who is lost and, through the cross of Calvary, bring the hand of God to that man and joining those hands together, that men might be reconciled to God.
2) We also received a message of reconciliation.
In v.19 Paul say that God "has committed to us the word of reconciliation."
Now we know that our ministry is to share a message. If you are not telling people that they are at war with God, you are not doing your ministry.
3) We have also received the mission of reconciliation.
In v.20 we are told, "we are ambassadors for Christ, as though God were pleading through us."
In the days of Paul, there were two kinds of provinces in the Roman Empire. Each is related in different ways to the Roman government. Senatorial provinces were composed of people who obeyed peacefully Rome and obeyed the law. But Imperial provinces were still rebellious and in somewhat of a state of war. So Rome sent ambassadors to those provinces to keep the peace and to represent the Roman government.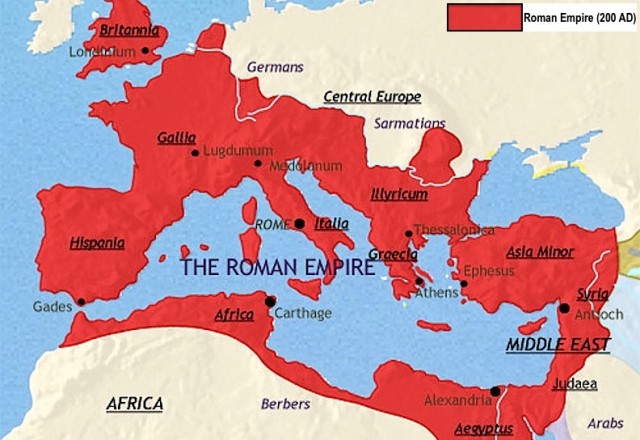 The good news for mankind is this: God did not declare war on mankind and declared peace. He does not want a ceasefire. He is looking for a permanent peace and an eternal relationship with us. God is not interested in the rehabilitation of criminals. He is interested in reconciliation with enemies. We are to be His ambassadors of peace to seek castaways because we can be rescued from the island of sin by the cross of Jesus Christ and reconciled to God.
The story is told of two men who were trying to escape from a burning volcano. As the molten lava gushed from the crater, they ran with all the strength to get out of it. All went well until they came to a broad stream of fiery lava which was about twenty feet across. Their only hope was to leap over the river of molten mass.
One of the man was old and had arthritis. The other was a healthy young athlete. They took a deep breath and each tried to leap the stream. The first man jumped only a few feet before falling into the bubbling mass to his death. Younger men with stronger strength and athletic agility gave a mighty leap and jumped about eighteen of the twenty feet. He ran farther than the first man, but the results was the same. Both of them were killed. Neither of them reached the target.
This story shows biblical truth. Even if we try to reconcile with God, we all cannot reach the glory of God. We have a short distance to leap like children. There is very little we have to do to jump the river of sin.
God knows how miserably we cannot live up to his desires and expectations. But unlike those in men in the lava flow, he does not let us fall into eternal death. He invites us to restore by his forgiveness.
There is a picture of Hans Holbein at London's National Gallery of London with which many are familiar. Jesus is standing in a garden and knocking on the front door of a little cottage. Everything is normal except for one small but important detail. There is no doorknob Jesus knocks on the door of our hearts. What the painting shows pictorially, Revelation describes.
"Here I stand, knocking at the door. If anyone hears me calling and opens the door, I will enter his house and have supper with him, and he with me" (Revelation 5:20).
Yes, our Lord is knocking on the door of our hearts today. Let's respond to the Lord's knock today. Let us open the door of our hearts and look for reconciliation. Let us have dinner with Jesus and he with us, today and to life everlasting. Amen.